EVERYTHING IS WORKABLE: INTIMATE LESSONS IN MEETING CONFLICT HEAD ON AND HEART OPEN
18jan3:30 pm5:00 pmEVERYTHING IS WORKABLE: INTIMATE LESSONS IN MEETING CONFLICT HEAD ON AND HEART OPEN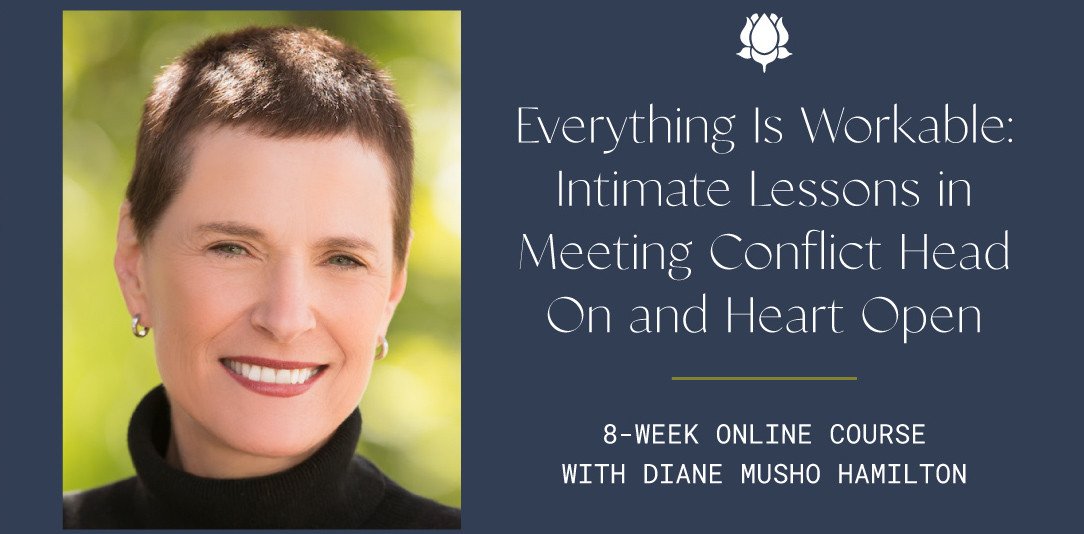 Event Details

January 18 – March 8, 2022
Tuesdays, 3:30 – 5:00 pm MT
90-minute class Via Zoom
+ Optional weekly practice groups MT and AEDT

Join Diane Musho Hamilton, author of Everything Is Workable: A Zen Approach to Conflict Resolution, for an in-depth exploration of conflict resolution as an evolving life and spiritual practice.

In eight intimate, live, interactive teaching sessions via Zoom, Diane will guide you in the development of a creative response to conflict, and help you to cultivate a vital set of essential skills for mature, dynamic, and reliable relationships that will serve in your workplace, at home, and in your community.

Open to the enlivening potential of conflict, and experience how working with difference, dissent, and discomfort is a sure and swift path to true intimacy with your own life.


$299 General Admission
---
Course Outline

Required Reading: Everything is Workable: A Zen Approach to Conflict Resolution by Diane Musho Hamilton (Shambhala Publications, 2013)
Session 1, January 18: Conflict is Good News
Change the way you see and experience conflict

Experience the essential role that conflict plays in your spiritual growth and development

Recognize the creative potential of conflict free of patterns of avoidance, accommodation, or aggression.
Session 2, February 25: Inner Peace, Outer Peace
Focus on the

inner

experience of conflict, and the tremendous gift that meditation provides in overcoming our internal divisions

Explore the nature of the dualistic mind, the mind that works with two

Establish a meditation practice as a basis for being one, to work more harmoniously in the world with others.
Session 3, February 1: Intention, Attention, and Awareness
Discover the power of intention

Cultivate mindfulness and awareness in the domain of human interaction and conflict.

Engage conflict to get to know the ego
Session 4, February 8: Scary, Yet Exciting
Work with states that accompany conflict

Explore different kinds of "threats"

Experience essential vitality
Session 5, February 15: Three Conflict Styles
Discover and explore your own conflict style

Investigate habits of body and mind: Clinging, compromising and competing

Develop skillful responses through curiosity and freedom.
Session 6, February 22: Speak for Yourself: The Importance of the First Person Perspective
Taking perspectives – the primary skill in conflict resolution

Coming from ego or authentic individuality?

Accommodating healthy self-interest

Taking responsibility: intention, action, and impact
Session 7, March 1: Listening: The Art of Second Person
Real listening – the essential skill in conflict resolution

Exploring common ground and distinctive differences

Intimacy and communion through listening
Session 8, March 8: Witnessing: Through the Lens of Third Person
Appreciating "just the facts"

Curiosity and awareness of things as they are

Meditation: the art of innocent observation

Review
more
Time

(Tuesday) 3:30 pm - 5:00 pm
Location

Zoom Conference Platform